Rotary equipment size reduction
A knife mill, hammer mill, and disc mill were instrumented to obtain performance data to aide project determination of commercially-needed process control factors. Figure 1 below shows the mills, and a test with the knife mill.
Fig.1. Direct energy-monitoring instrumented mills is shown operating the knife mill with switchgrass uniformly fed with a 7-m conveyor.
Three bare mills (knife mill, hammer mill, and disk mill) were equipped for direct input-energy measurement. Data were collected via analog to digital signal processing modules and stored on a laptop computer.
Power consumption during idle runs of knife, hammer and disk mills are shown in Fig. 2. Monitored size reduction energy of dry switchgrass in a knife mill is shown in Fig. 3. Likewise, Fig. 4 shows hammer mill energy for switchgrass, corn stover and wheat straw.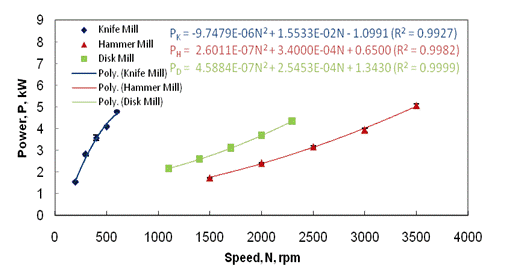 Fig. 2. Monitored power of rotary mills without biomass throughput.